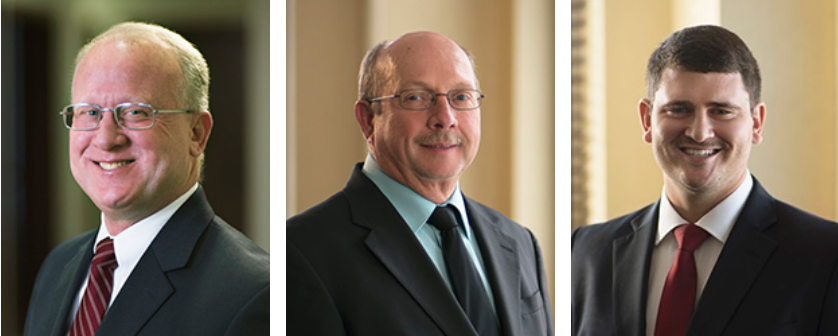 Pictured above: Joe Harris, Rick Edwards, and Sam Triplett
TI-Trust, Inc. is proud to announce that the Farm Services Group has a third Certified General Real Estate Appraiser. Senior Vice President of Farm Services, Joseph E. Harris, II, announced recently that Sam Triplett achieved this certification by passing the State of Illinois Certified General Real Estate Appraiser exam.
The Farm Services Team at TI-TRUST provides landowners with in-depth knowledge of farm operations. Our senior farm managers are Accredited Farm Managers through the American Society of Farm Managers and Rural Appraisers. Their extensive agricultural background provides our clients with an exceptional understanding of agriculture and farm management along with personal and professional experiences.
Throughout the Midwest, our farm managers ease the stress and worries of owning farmland. They understand every landowner's needs are unique, and they create a plan applicable to each operation. Regardless of the type of lease arrangement or farming operation, including cash grain and livestock, they have the knowledge and expertise to assist in farmland asset ownership.
The Farm Services Group at TI-TRUST also provides farm consultation services to landowners for recordkeeping, building or improvement projects, real estate sales and acquisitions, and other farm-related business activities.
The appraisers at TI-TRUST are area-leading providers of agricultural appraisals. We have the expertise to provide appraisal services for estate purposes, lending purposes, or in preparation to buy or sell farmland. All three are State-Certified General Real Estate Appraisers offering comprehensive appraisals so you receive accurate documentation to verify the value of your farmland asset.
For more information, please visit our website at www.ti-trust.com; email:
mail@ti-trust.com; or telephone 217-228-8060.