TI-TRUST Financial Results
Our quarterly financial results are reported to the Illinois Department of Financial and Professional Regulation about 45 days after each calendar quarter end (March, June, September and December). If you would like to see our results, please click the link below to access that financial information posted on the IDPFR website. Go to "Trust Company Report of Condition and Income"; select the date of the report you wish to view; select TI-Trust, Inc. (NOTE: Due to our Company's name change in July of 2019, reports prior to September 30, 2019 will be under First Bankers Trust Services, Inc.)
https://www.idfpr.com/Banks/CBT/STATS/FIDSTAT.ASP
COVID-19 TEMPORARY ACCOMMODATIONS
Due to the restrictions associated with COVID-19 the Illinois Department of Financial and Professional Regulations has been delayed in posting our quarterly financial results as well as similar financial information of other regulated financial institutions.  As a convenience to our shareholders, TI-Trust, Inc. will post our quarterly financial results on our website until such time as the COVID-19 restrictions permits the Illinois Department of Financial and Professional Regulations to promptly post them on their website.
For temporary access to our quarterly financial results please click here.
The following document was filed by First Bankers Trustshares, Inc. with the IRS on August 13, 2019 to estimate cost basis of TI-TRUST, Inc. common stock using IRS Form 8937 Report of Organizational Actions Affecting Basis of Securities.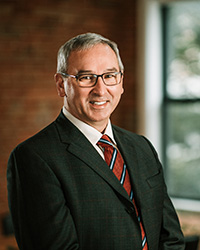 Brian Ippensen, CPA CMA, President
President
Quincy, IL Office
BS Agricultural Economics, University of Illinois – Champaign. Brian's past work experience includes staff and in-charge for public accounting and audits of banks and retirement plans; cost accounting for edible oil refinery and bean crushing manufacturing; international accountant for foreign export sales; retail banking operations. Brian is a member of The ESOP Association, Employee Owned S‐Corporation of America (ESCA), National Center for Employee Ownership (NCEO) and frequently speaks on trustee and fiduciary topics. Brian currently serves on the Board of Directors for The ESOP Association and previously served as its Chair of Advisory Chairs Counsel and Chairperson of the Fiduciary Advisory Committee. Brian joined TI-TRUST, Inc., in 1997. He was appointed President January 1, 2006 and also serves as board member.