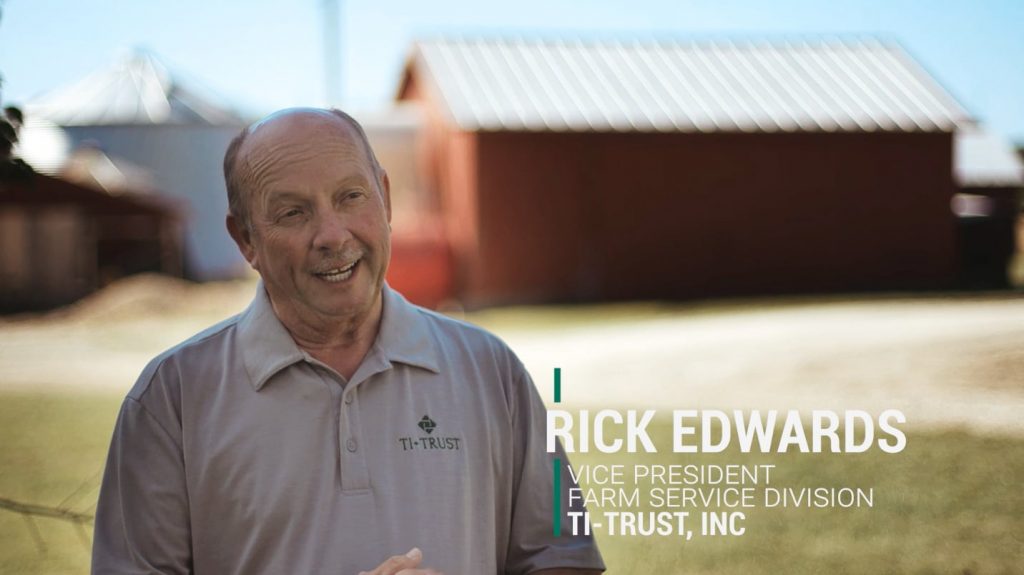 TI-TRUST is proud to recognize Rick Edwards, AFM (Vice-President Farm Services) and his family as the 2020 Herald-Whig Farm Family of the Year! The family was recently honored at the First Bankers Trust/ Quincy Area Chamber of Commerce Ag Banquet held in Quincy, Illinois.
Rick's parents – Paul and Edith Edwards – were life-long dairy farmers, and passed their love of the land and strong work ethic to their six children, thirteen grandchildren, and thirteen great-grandchildren.
"Grandpa and Dad, (brothers) Greg and Dave always have been innovators," Rick said. "Grandpa put in one of the early milking parlors, put up Harvestore silos, and started using haylage before a lot of dairymen in the area. Even with something like artificial insemination, Grandpa and Dad were using that back in the early '50s…"
A dedication to conservation – building tile outlet terraces and dry dams, grass waterways and crop rotation with cover crops to control soil erosion, planting evergreen tree windbreaks, using no-till and minimum tillage practices in the '60s – was an important part of the Edwards' legacy.
"Dad was big on conservation, Grandpa too, and us boys kind of followed up on leaving the land better than we found it," Rick said.
It's this legacy balancing innovation and conservation, as well as a deep commitment to serving the farming community (Rick is a past president of the Adams County Farm Bureau and for two decades the diary superintendent at the Adams County Fair), that Rick brings to his duties at TI-TRUST.
We congratulate Rick and the entire Edwards family for selection as the 2020 Herald-Whig Farm Family of the Year. 
---
Get in Touch
No matter the size or shape of your farm, we are excited to work with you. If you would like to learn more about our professional farm services, please complete the contact form below.
REMINDER: Email sent through the Internet is not secure unless documented such. Do not use unsecured email to send us confidential information such as account and or credit card numbers, PIN numbers, or send time sensitive instructions