PERSONAL TRUST DIVISION
TI-TRUST, Inc. is pleased to announce the promotion of Susan K. Knoche to Senior Vice President of Personal Trust.
As Senior Vice President, Ms. Knoche specializes in complex estate and trust administration providing her clients with a high level of knowledge and expertise.  She also oversees the personal trust administration processes and staff management for the Quincy location.  She holds the designation of Certified Trust & Fiduciary Advisor (CTFA) and is a graduate of Cannon Financial Institute Trust School and Illinois Bankers Association Trust and Investment Management School.  She has over 35 years of experience in the trust industry and has been with TI-TRUST since 2012.
Ms. Knoche resides in La Grange, Missouri with her husband.
2023 Best Places to Work in Illinois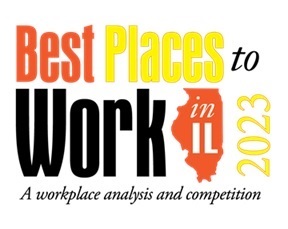 TI-Trust, Inc. ("TI-TRUST") is proud to announce that for the fifth year in a row, they have been named as one of the 2023 Best Places to Work in Illinois. The awards program began in 2006 and is promoted by The Daily Herald Suburban Business.
"It is great to be recognized as a Best Places to Work in Illinois for a fifth consecutive year," said TI-TRUST's President and CEO Brian Ippensen.  "I'm proud that our employees' contributions and efforts are recognized to support the clients of TI-TRUST and growth to our organization.  The annual employee survey is a great tool and measurement for our strategic objectives."
This statewide survey and awards program were designed to identify, recognize and honor the best places of employment in Illinois, benefiting the state's economy, workforce and businesses. TI-TRUST is one of only 36 businesses in Illinois in the small company category (15-99 U.S. employees) to receive this honor for 2023.
Companies from across the state entered the two-part process to determine the Best Places to Work in Illinois. The first part consisted of evaluating each nominated company's workplace policies, practices, and demographics. This part of the process was worth approximately 25% of the total evaluation. The second part consisted of an employee survey to measure the employee experience. This part of the process was worth approximately 75% of the total evaluation. The combined scores determined the top companies and the final ranking. Best Companies Group managed the overall registration and survey process in Illinois and also analyzed the data and used their expertise to determine the final rankings.
For more information on the Best Places to Work in Illinois program, visit www.BestPlacestoWorkinIL.com.
TI-TRUST, Inc. – Now an Employee-Owned Company
TI-TRUST, Inc., ("TI-TRUST") has been providing fiduciary services since 1956, and trustee services to employee stock ownership plans (ESOPs) since 1988. We are proud to announce that we are now an employee-owned company! Joining our ESOP clients, our employees will be amongst the more than 10 million employee owners in America.
Our ESOP will be one of the 320 shareholders of TI-TRUST. Adding the ESOP is more than a great retirement benefit. As owners, we will align the interest of all of our stakeholders to continue serving our valued clients at the highest level.
"Our success is attributable to our exceptional employees and the great culture we have at TI- TRUST. We have been serving as an ESOP trustee for hundreds of clients since 1988. Today, with our own ESOP, it strengthens our commitment to our employees and our culture while continuing to provide outstanding service to our clients." said Brian Ippensen, President and CEO.
About TI-TRUST
TI-TRUST is nationally recognized as a premier provider of fiduciary services that serve clients across the country. We are an independent Trust Company chartered to provide Trust Services, Farm Services and Employee Benefit Services. Our team is a devoted group of professionals dedicated to meeting the needs of the trust and beneficiaries we serve. We have extensive experience in fiduciary services and can serve as a trustee or agent based on the client's needs. Our focus has been on controlled growth in order to maintain quality, control risk and deliver timely service to our clients. Growing organically allows us to be a stable and long-term trustee for decades to come. TI-TRUST manages over $16 billion in assets and has offices in Illinois, Missouri, Pennsylvania, Arizona, and Georgia.
TI-TRUST is an organization with a vision on fiduciary duty and shareholder services, and we have values rooted in the proven principles of long-term investing and integrity in serving our clients. We rank highly among the best in our industry in customer and employee satisfaction and total return to investors.
Why TI-TRUST Video Transcript
Brian Ippensen: We have a great staff of people, second to none in terms of their knowledge, their collective knowledge. Both on the personal trust side, so the work that we do there as well as the institutional working for the employee benefit plans, ESOP's and 401ks. And try to make that employee benefit plan or that personal trust account just a little bit better.
Larry Shepherd: We act as trustees for families. That's the main part of our business. And what happens when you act as trustee for a family, you take care of their financial affairs, you follow the wishes of the grantor who's written the document and make sure they're taken to heart and that they're followed to the letter.
It's not about how we want to manage the money or how we want to distribute the money. It's about acting as a fiduciary and doing it in the best interest of the grantor who created the trust and made the decision about how they want their money paid out.
Dawn Goestenkors: We serve in a variety of capacities, including trustee or custodian for different types of benefit plans such as employee stock ownership plans, 401ks, and non-qualified plans. We have plans that are as small as a hundred thousand dollars or less with 10 or fewer employees, up to our largest plan, over a billion dollars in assets with thousands of employees throughout the world.
We have a deep team of individuals and we assign a team to each account and really serve as a value-added partner with our clients. We're not just a trustee and name that's there to do the bare minimum. We really want to be there and help the client succeed as much as they can. We're all working together for the best interest of the plan and the participants, and we want to work together with our clients to accomplish that.
Brian Ippensen: You know, our people are the greatest asset, and our commitment to our clients and our commitment to each other. At the end of the day, it's about serving that client and getting the result that they need.