COVID-19 UPDATE - March 23, 2020
On Friday, the Illinois Governor issued a directive for shelter-in-place in response to the COVID—19 pandemic.  As a financial institution, TI-TRUST was granted an exemption and are continuing to process and respond to our trust administrative needs.  Beginning today, we will have a limited staff in our Quincy office to respond effectively to our daily settlement processes.  Nonetheless, to protect our employees and our clients, I have asked all other staff to begin working from home starting today.  All of our offices, including Quincy, remain closed except by limited appointment.  All of our staff have access to our network and its many great tools, including their email and phone systems to conduct the business of our client's needs.
As I announced previously, we initiated our Business Continuity Plan and began operating remotely last week with almost half of the staff.  I can report that our plan is working!  With our remote technology plan we implemented years ago and with our tried and tested Business Continuity Plan, we are fortunate to now be conducting a fully functional, electronic workplace remotely.
These are certainly challenging times.  The news and circumstances change quickly.  I wish all of you health and safety in the days ahead.
Sincerely,
Brian Ippensen
President
TI-TRUST'S RESPONSE TO COVID-19
TI-TRUST is committed to our employees and the success of our clients. The past week has been extraordinary and historic in its impact to all of us. It would appear that we will have much more to undergo. We have been monitoring the events and have initiated our tried and tested Disaster Recovery and Business Continuity Plan.
To minimize the impact of the COVID-19 virus to our employees, our business, our communities and our nation, effective immediately we have precluded all unnecessary travel for the next 60 days. Employees who have traveled in the past 10 days are self-quarantining. Further, starting this Tuesday, we are coordinating with our employees to work remotely from home and maintain our high delivery standards for trust administration.
Our goal is to maintain the well-being of our clients and our employees. We are and will be fully operational and provide uninterrupted and excellent service to you that you have come to expect.
Thank you for loyalty to TI-TRUST as we endeavor together through this difficult situation.
Brian Ippensen
President
First Bankers Trust Services, Inc. announced spin off and rebranding from its parent company First Bankers Trustshares, Inc. creating an independent company managing over $10 billion in assets.
On July 1, 2019 our trust services business spun off from our parent company, First Bankers Trustshares, Inc., and rebranded to TI-TRUST, Inc. As an independent company, we continue to focus on providing employee benefits, personal trust and farm management services.
Since 1956, our employees have served thousands of clients and thousands more beneficiaries. Our client's trust is gained from our employees acting with True Integrity.  We will continue our traditions and our mission as a national leader of fiduciary services.
Today, we manage more than $10 billion in assets for our employee benefit, personal trust and farm services clients in more than 40 states.  TI-TRUST, Inc. will be one of just a few hundred True Independent trust companies in the United States.
The separation from Trustshares is ownership-focused and will not affect our business, our day-to-day operations, or our relationships. Our goal is to continue providing our clients the highest level of service as we always have. The rebranding further distinguishes ourselves as an independent trust company and industry leader which better reflects our core values.
We will continue providing fiduciary services with offices in Illinois, Missouri, Pennsylvania, Arizona, and Georgia.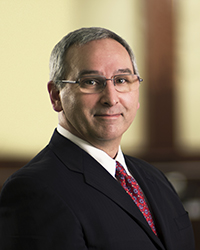 "I'm excited about the opportunity to lead TI-TRUST and continue to build on our momentum as a company," said Brian Ippensen, President. "I'm proud of the work we have done over the last six decades, and I'm looking forward to continuing the journey with you as we move forward as an independent company."
TI-TRUST names new Chief Financial Officer
TI-Trust, Inc. is pleased to announce that Julie Kenning has been named as the Chief Financial Officer for the company. This announcement was recently made by President Brian Ippensen. Kenning is the Executive Vice President of Operations, and will assume the role of CFO in addition to her current duties ... Read more about Julie Kenning's Promotion (PDF)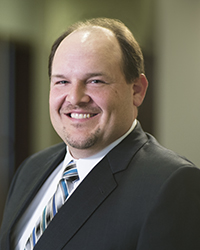 Martin Receives Certified Financial Fiduciary® Designation
Brian Ippensen, President of TI-Trust, Inc. (TI-TRUST) is pleased to announce that Jay Martin has recently been awarded the designation of Certified Financial Fiduciary®. Martin currently serves as the Executive Vice President of Investment Management ... Read more about this Jay Martin's Award (PDF)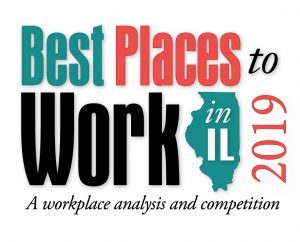 TI-TRUST, formerly First Bankers Trust Services, Inc., is proud to announce we have been recently named as one of the 2019 Best Places to Work in Illinois.
"This is a great honor! Our employees are vital to our success. We continually pursue improvements to make their work experience a meaningful purpose as they serve our clientele." said Brian Ippensen, President.
The awards program began in 2006 and is promoted by The Daily Herald Business Ledger in partnership with the Illinois Chamber of Commerce, MRA-The Management Association, the Small Business Advocacy Council and Best Companies Group.
This statewide survey and awards program was designed to identify, recognize and honor the best places of employment in Illinois, benefiting the state's economy, workforce and businesses. Companies from across the state entered the two-part process to determine the Best Places to Work in Illinois. The first part consisted of evaluating each nominated company's workplace policies, practices, and demographics. The second part consisted of an employee survey to measure the employee experience. The combined scores determined the top companies and the final ranking. Best Companies Group managed the overall registration and survey process in Illinois and also analyzed the data and used their expertise to determine the final rankings.
TI-TRUST is nationally recognized as a premier provider of fiduciary services that serve clients across the country. We are a dedicated Trust Company chartered to provide Trust Services, IRA, Farm Services, and Employee Benefit Services. Our team is a devoted group of professionals dedicated to meeting the needs of the trust and beneficiaries we serve.
We have extensive experience in fiduciary services and can serve as a trustee or agent based on the client's needs. TI-TRUST manages over $10 billion in assets and has offices in Illinois, Missouri, Pennsylvania, Arizona, and Georgia.
TI-TRUST is an organization with a vision on fiduciary duty and shareholder services, and we have values rooted in the proven principles of long-term investing and integrity in serving our clients. We rank highly among the best in our industry in customer and employee satisfaction and total return to investors.
For more information on the Best Places to Work in Illinois program, visit the Best Places to Work in IL website.