TI-TRUST, Inc. Announces Additional Certified General Real Estate Appraiser to The Farm Services Group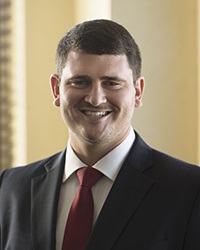 TI-TRUST, Inc. is proud to announce that the Farm Services Group now has a third Certified General Real Estate Appraiser.  Senior Vice President of Farm Services, Joseph E. Harris, II announced recently that Sam Triplett achieved this certification by passing the State of Illinois Certified General Real Estate Appraiser exam.
In addition to passing the required Illinois state exam, Mr. Triplett completed over 300 hours of education and logged over 3,000 hours of field experience.  This highest level of licensure allows Triplett to appraise any type or size of real or personal property, but his main focus is agricultural real estate.  Triplett says "In an ever-evolving real estate market, my goal is to provide meaningful value to my clients through professional appraisal services and insightful valuation solutions."  His experience in real estate and financial analysis blended with a background in agriculture gives Mr. Triplett the ability to offer his appraisal clients the highest level of customer satisfaction.  He specializes in land and farm appraisals for the purposes of estate planning, buying and selling, lending transactions, and more.
Sam Triplett is a 2015 graduate of the University of Missouri with a bachelor's degree in finance and banking with an emphasis in real estate.  Triplett lives on and helps operate his family farm in Marion County, Missouri.  He began his career at TI-TRUST, Inc. (formerly First Bankers Trust Services, Inc.) in 2016.
TI-TRUST, Inc. serves a diverse set of landowners, many who live nationally and internationally.  The TI-TRUST, Inc. Farm Services Group offers professional farm management arrangements for landowners that inherited a farm, purchase it as an investment, or own it as an individual, corporation, LLC, or trust.
Please visit our website at www.ti-trust.com for more information about the services offered and to contact us.