Great Rivers Bank Sells Trust Assets to TI-TRUST, Inc.
June 4, 2022
TI-TRUST, Inc. ("TI-TRUST") and Great Rivers Bank announce the sale of Great Rivers Bank trust assets to TI-TRUST.  The companies have worked together for many years with TI-TRUST providing farm appraisals to support Great Rivers lending.  Great Rivers has been successfully expanding their banking footprint and is focusing on their core banking services.  They have come to the conclusion that their trust clients will be best served by TI-TRUST who specializes in trustee services.  The sale was effective March 31, 2022.  Additionally, Great Rivers Bank has entered into an ongoing cooperative agreement to refer their bank clients needing trust services to TI-TRUST.
"We are pleased to be able to further partner with TI-TRUST to ensure that our trust clients are getting the same high level of customer services that they have come to expect from us" said Bob Garner President Great Rivers Bank.  Great Rivers Bank is headquartered in Barry and is a state-chartered full-service community bank with locations in Barry, Pittsfield, Liberty in Illinois and Hannibal, MO.
"We welcome all of Great River's trust clients to TI-TRUST and look forward to serving these new clients with our trust expertise" said Brian Ippensen, President of TI-TRUST.
TI-TRUST is a leading provider of fiduciary services for Personal Trust, Farm Services and Employee Benefits.   Founded more than sixty years ago in Quincy, Illinois, today, the Company has locations in five states and hold more than $15 billion in managed assets for individuals and institutions nationwide.
2022 Best Places to Work in Illinois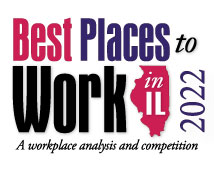 TI-Trust, Inc. ("TI-TRUST") is proud to announce that for the fourth year in a row, they have been named as one of the 2022 Best Places to Work in Illinois. The awards program began in 2006 and is promoted by The Daily Herald Suburban Business.
"It feels wonderful to be named as one of the Best Places to Work in Illinois," said TI-TRUST's President and CEO Brian Ippensen. "The answers from this survey show us that we're doing something right, and this is motivation to always keep our employees' happiness as a top priority as we continue to strive to provide the best service to our clients."
This statewide survey and awards program was designed to identify, recognize and honor the best places of employment in Illinois, benefiting the state's economy, workforce and businesses. TI-TRUST is one of only 46 businesses in Illinois in the small company category (15-99 U.S. employees) to receive this honor for 2022.
Companies from across the state entered the two-part process to determine the Best Places to Work in Illinois. The first part consisted of evaluating each nominated company's workplace policies, practices, and demographics. This part of the process was worth approximately 25% of the total evaluation. The second part consisted of an employee survey to measure the employee experience. This part of the process was worth approximately 75% of the total evaluation. The combined scores determined the top companies and the final ranking. Best Companies Group managed the overall registration and survey process in Illinois and also analyzed the data and used their expertise to determine the final rankings.
For more information on the Best Places to Work in Illinois program, visit www.BestPlacestoWorkinIL.com.